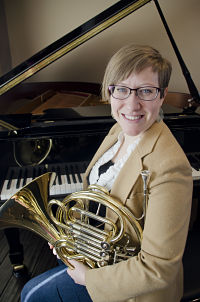 Liz Graden is a private music teacher based in Bountiful, Utah. She loves performing and has a passion for teaching. After graduating from BYU in 2008 with a degree in Music Education, Liz taught band briefly in the Provo School District. She played French horn with the Nebo Philharmonic Orchestra for two years and served on the board of directors. In 2014 and 2015, she was a member of Art City Brass Quintet, performing with the ensemble for public recitals, private and corporate events, and educational clinics and workshops. Currently, she teaches private and group French horn and trumpet lesson. She also does French horn clinics for some of the junior high and high schools in the area.
Background
Originally from St. Louis, Liz studied piano for many years and sang with the St. Louis Children's Choirs, performing nationally and internationally. She began playing French horn at age 12 and continued through college, performing with multiple bands and orchestras at Brigham Young University. In addition to her French horn performance at BYU, Liz also sang with choirs and co-founded KlezMore, a klezmer band (traditional Jewish dance/folk music), through the university's folk-music program. With KlezMore, she played trumpet, percussion, sang, and also led traditional Jewish dances at concerts, barn dances, and competitions.
Interests
Liz enjoys performing and conducting classics of the instrumental and choral literature, chamber music, jazz, and klezmer. She also loves music history and theory, as well as arranging music for choral and small instrumental ensembles. In addition to her musical pursuits, Liz is employed as a full-time mom to her five kids, ages 2-16.